GARDAI have busted a major sex-for-sale operation in the heart of Letterkenny.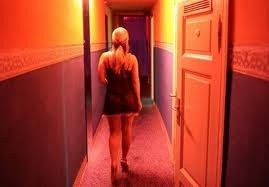 An extensive Garda surveillance operation resulted in Gardai raiding a house in the town which was operating as a brothel.
The house at 1A Binnion Avenue had been put under surveillance for a short period of time.
During that time a number of males were spotted coming and going from the house.
When they were approached by undercover Gardai, they admitted they had paid for sexual services to a number of Romanian women staying at the address.
The house was raided on Thursday last by Detective John Murphy and Rosemarie Rooney on foot of a bench warrant.
In the house they discovered a number of women aged between 20 and 38 and one male client.
Gardai also seized mobile phones, condoms, a translation book relating to sexual services and €680 in cash.
All five women were arrested and then interviewed in relation to keeping a brothel.
"It appears three of the females Elena Arghir, Claudia Puiac and Margareta Vasile arrived in Ireland a month ago with the intention of setting up a brothel.
"They acquired the house through the Internet and after arriving registered their profile on Escort Ireland. They acquired Irish mobile phones and put the numbers on the website as well as photographs of themselves.
"On the website there was a menu or list of services with a price list, one could avail of. They serviced the clients of their own free will with no outside involvement," Det Murphy told the court.
The other two females Paula Lacusteanu and Mariana Constantin had only arrived in Ireland two days before the garda raid on the house. They had put their profiles on the website but had not received any business.
"One of the females Mariana Constantin only received her first telephone call during the garda search of the house. We became aware of further cash in the house during the womens' detention.
"The warrant was reactivated and an additional £1,350 was found – proceeds of their business venture," Det Murphy added.
All five women said they came from the same area in Romanian and came of their own free will.
"From inquiries and knowledge of the business and people coming from that part of Europe, it could be controlled but that did not become apparent during the interviews," Det Murphy said.
Solicitor for the five women, Mr Patsy Gallagher said his clients have known each other for years. Three have children and were separated at a very young age.
"This is deeply embarrassing for them. The near 24 hours in custody left them frightened, scared and embarrassed.
"They want to get our of here and go home. You will not see them back in any court in this jurisdiction. They will be on the first flight back to Romania as soon as they get their passports back," Mr Gallagher told the court.
Judge Paul Kelly ordered that the €300 bail posted by the women be used to make a donation to charity.
Arghir, Puiac and Vasile were ordered to pay €150 each to two charities – Our Lady's Hospital Crumlin and Donegal Rape Crisis Centre. Lacusteanu and Constantin were ordered to pay €100 each to both charities and use the other €100 towards the cost of their flights home. The money seized in the house is to be divided between both charities.
Judge Kelly then applied the Probation Act to all five.
Ends