A Letterkenny man, who fell from his bike a week ago, has died from his injuries.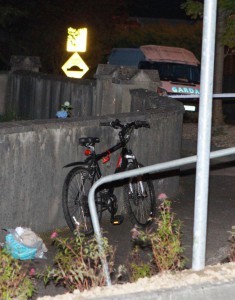 Brian McIntyre, 35, of Windmill View, died at Beaumont Hospital in Dublin on Saturday night.
The incident happened in the Glencar area of the town at around 7.30pm on July 9th.
Mr McIntyre was found by a passer-by having fallen from his bike.
The exact details of what happened are still unclear.
Gardai rushed to the scene and cordoned off the area.
It had initially been thought the man had been the victim of a hit-and-run.
The man was taken to Letterkenny General Hospital but then rushed to Dublin's Beaumont Hospital where he is being treated for a head injury.
A Garda spokesman confirmed the incident was not a hit-and-run.
"It appears that the man fell off his bike. We are not looking for anyone in relation to the matter and we do not believe it was a hit-and-run.
"The man has since been transferred to Beaumont Hospital where he is being treated," he said.
PICTURES BY KIND PERMISSION OF NEWSPIXIRL
Ends
Tags: