They might have had every reason for a sleep-on and a bit of celebration after capturing the Anglo Celt Cup and being crowned Ulster Champions last night.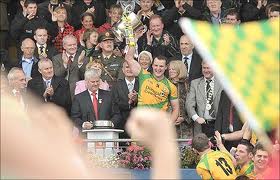 But Donegal's footballing heroes swap champagne for seawater this morning as they head to the beach to recover from yesterday's grueling contest.
Manager Jim McGuinness told his players to enjoy themselves but he expected a team gathering this morning to cool down.
The Glenties man, who has brought a strict regime of discipline with him, told his players there was plenty of time to celebrate in October!
The former Donegal midfielder knows although an Ulster title is theirs, his young guns have still to prove to the rest of the country that they are the real thing.
Almost 15,000 Donegal fans travelled to Clones yesterday to roar their team to victory over a Derry side who were stopped from playing by a superb Donegal defence.
The cat is now out of the bag that Donegal are not just a team of youngsters trying to impress their manager for a place on the team.
Joe Brolly claimed claimed before yesterday's match that Donegal's ugly football would win out on the day.
Win they did but Brolly can hardly call Karl Lacey, Colm McFadden or Michael Murphy in full flight anything but sheer beauty.
Over on RTE, Pat Spillane, the king of 'Puke Football' was eating a large slice of humble pie as he admitted that Donegal now had his respect.
No doubt Jim McGuinness slept easier in his bed after getting such a blessing from the Kerryman!
It was a long road home from Clones for many last night.
But it never seems that weary with a provincial title in the boot of the bus and an All Ireland Quarter Final to look forward to.
Summer would appear to be hotting up afterall.
Tags: