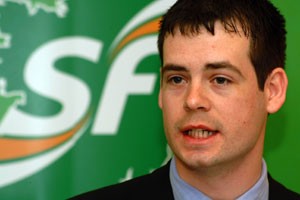 Sinn Féin TD Pearse Doherty has welcomed confirmation from the HSE this evening that a multi-agency response, including support and counselling services for victims, will be announced tomorrow in response to the conviction of Michael Ferry for raping four young boys.
Speaking this evening Deputy Doherty said there may be more victims in the area and it is important that there are services in place to support all of those who have been affected by the actions of Michael Ferry both directly and indirectly.
Deputy Doherty said: "I contacted the HSE today and informed them that it is my strong view that a statutory response is needed in Gaoth Dobhair to help the victims of Michael Ferry.
"This must include support and counselling services for all those affected by this mans actions both directly and indirectly.
"It is my understanding that these services will be provided and will be announced tomorrow morning and I welcome that commitment.
"It  is  quite  possible that there are more victims out there that have not come forward yet and it is very important that services are in place for these people."
Earlier Mr Doherty told Shaun Doherty on Highland Radio that he knew Ferry and had also witnessed his inappropriate behaviour – which had realised after hearing about the court case.
"He would say he was a black belt in karate; he would be grabbing you and throwing you to the ground.
"What sparked my memory was one of the victims in the court mentioned how Mickey would throw him to the ground and start by tickling him.
"Looking back now, when I put myself back into the situation, that type of behaviour was completely inappropriate."
Mr Doherty said many teenagers – including himself – had hung around the premises at Ardscoil Mhuire where Ferry was the caretaker.
"I remember one incident where he loaned a few of us a tent and we put it up to stay out for the night. But – I can't remember whether it was me or one of the other fellas – but he slipped one of us a written note, saying he would call back that night. I remember we took the tent down straight away and went home."
In a statement the directors of the premises where Ferry abused his victims before and after they dismissed him as a caretaker expressed their regret at the case and "the pain, suffering and distress experienced by them by his criminal actions".
They said he had been fired from his job 10 years ago – however they did pay him for odd jobs after that date.
They said they were unaware that Ferry continued to use the premises where to locals – many of whom we spoke to today – he was still seen as the 'caretaker'.
The statement said: "Following his arrest in 2001 and prior to his subsequent conviction he was dismissed from his post as caretaker. This dismissal took place at a formal meeting, attended by two directors of Coláiste Cholmcille.
"Teaching staff at the college were informed of his dismissal and the reasons for same.
"Over subsequent years, on occasion, whilst the building was vacant and not in use, Micheal Ferry, on an intermittent basis and always in the company of other building workers, participated in effecting necessary repairs."
The school insisted Ferry was never unaccompanied during his subsequent employment.
However, the directors said with the benefit of hindsight, in the light of the information now available "we regret having allowed this".
In its statement, the school said intermittent security checks of the building during its long periods of unoccupancy did not reveal evidence of unauthorised use.
"However, information emerging from the recent court case states that Micheal Ferry continued to access the building subsequent to his dismissal as caretaker in 2001."
"As already stated this was an unused and unoccupied building for approximately nine months of every year. Apart from the above mentioned periods of authorised accompanied access, any other access of the building by Micheal Ferry was totally unauthorised."
Basically the school directors say they didn't know he was using the building and was doing so without their authority.
* Do you have a picture of Michael Ferry or know more about it? Contact us on info@donegaldaily.com
Tags: