Former Donegal army officer Collette McBaron has been linked with love-rat Ashley Cole.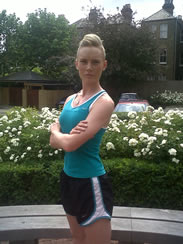 Miss McBarron – a personal fitness trainer, model and former Miss Ireland contestant – claimed she was dating the Chelsea and England defender.
And she heaped yet more heartbreak on Cheryl Cole by rubbishing reports that love rat Cole is yearning to get back with the Girls Aloud star.
Collette – once a second lieutenant in the Irish Army – said: "Without saying too much I could guarantee that he probably isn't, unless I'm hearing fibs."
Asked about her dates with Cole, she added: "I can't say I've never met him or that we've never been out together because clearly there are pictures of that on different occasions."
The 26-year-old was first snapped with Cole in May as they climbed into a car outside London's posh Maddox Club.
Brainy Collette, who has a history degree, also appeared on Sky Sports' Soccer AM show earlier this year as a sexy "Soccerette" dressed in a Chelsea strip.
Tags: