A Garda has revealed the terrifying moments before a car smashed into his patrol car and killed his colleague.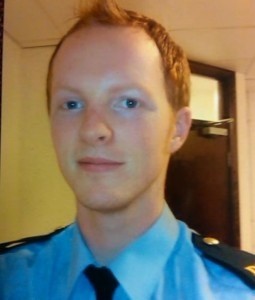 Garda Bernard McLaughlin revealed how a car being driven by Martin McDermott "came like a rocket" before it hit them head-on in Burt in December 2009.
Garda Gary McLoughlin, 24, died in hospital the following day as a result of his injuries.
Martin McDermott, 25, denied manslaughter but has pleaded guilty to dangerous driving causing the death of Garda McLoughlin.
He has also pleaded not guilty to driving intentionally and in a wreckless manner a wreckless manner but pleaded guilty to drink-driving, driving without insurance and driving while disqualified.
Garda Bernard McLaughlin told Letterkenny Circuit Court how he and Garda McLoughlin had been alerted to a pursuit between an unmarked patrol car and a Vauxhall Astra car on the main Letterkenny to Derry road around 1.15am on December 13th.
Garda McLoughlin revealed he and his colleague were trained in operating the Garda 'stinger' but were told it was too dangerous to deploy it.
Instead they were told to simply get the registration number of the red Vauxhall car.
As they drove towards Letterkenny at Lisfannon near Burt, Garda McLaughlin said he noticed a car coming towards them 'like a rocket."
"I studied it (the car) for a second and realised it was coming straight for us. It was a like a rocket and I can't put any other word on it.
"I shouted at Gary and he tried to pull the steering wheel to the left and into the ditch but we only had a second to the point of impact. It seemed to come like an arrow at our vehicle," he said.
Garda McLaughlin said he remained conscious at all times during the crash.
"There was a loud deafening bang and I received an awful blow to the right side of my body. The airbags were deployed and there was dust and charred glass everywhere.
"I gathered myself and looked over at Gary and he appeared to be slumped over and seemed lifeless. I called his name and shook him but there was no response and I thought he had passed away," he revealed.
The crash happened when the car being driven by McDermott had been pursued by Garda detectives in an unmarked car for more than 30 kms reaching speeds of up to 170kph after it was seen coming out of The Grove Petrol station in Bridgend.
He travelled to Newtowncunningham and then back towards Derry before it crashed with Garda McLoughlin's patrol car at Lisfannon.
Garda forensics officer Kevin Giles revealed how McDermott was thrown across his car and thrown out the passenger window of the car and down the road.
Garda Detective Bernard Mullins said he found McDermott on the road and actually thought he was dying at first but later cam around.
The accused McDermott was later arrested on January 7th and interviewed by Gardai.
Under Garda questioning McDermott said he wished he could turn back the clock on the entire incident.
"I'm having nightmares and I feel sorry for Gary's family and friends – I wish it hadn't happened. It was just a freak accident.
"If I could put back the clock I wouldn't have got into the car," he said.
The trail before a jury of 8 women and four men is expected to finish before Judge John O'Hagan tomorrow.
Ends