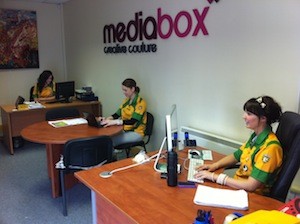 Well after a very busy Monday we are coming to you this Tuesday morning and we are still reveling in the joy of the great Donegal win at the weekend, so we have decided to drop the heels for football boots and dawn our Donegal Jerseys to show our support to our Ulster Champs and of course the requested song for this week without doubt has to be 'Hills of Donegal' so join in and sing along http://www.facebook.com/mediabox?ref=ts and with special thanks to Brain McCormick Sports  for supplying us with our fantastic jerseys!
Last week Gallaghers Bakery continued dish out the 'dough' with another winner announced, congratulations to Mary Maguire from Derrybeg who managed to Grab herself a Grand in the Gallaghers White Sliced Pan, Mary purchased her lucky loaf in Gallaghers Shop Derrybeg. Another winner will be announced this week so don't' forget to pick up a loaf.
In the Media Box office we love to support good news and if this isn't good news I don't know what is…. After two months of dedicated car washing, bag packing, tea mornings, table quizzes, bonanza draws, football matches and much more the Kavanagh's SuperValu 30,000 pledge in aid of the Hospice is now in sight. There were many happy faces across all four Kavanagh's SuperValu stores this week as the staggering current total of 9,760.75euro raised was announced.
Well I hope we have managed to spread some joy on this dull Tuesday Morning with our good news stories, tune in next week for more!
Until next week…. keep running in heels! The Media Box Team.