Letterkenny's Town Mayor has pleaded with people to come forward to report suspicious activity in their neighbourhood.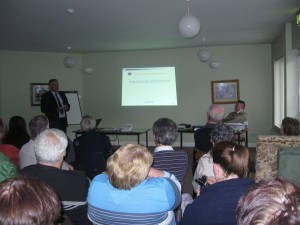 Colr Gerry McMonagle's call came during a Crime Prevention meeting in the town this week.
It follows a recent spate of burglaries locally in which there have been more than 48 incidents over the past month.
A number of people were arrested and a large haul of stolen goods recovered.
However Colr McMonagle said "We all must remain vigilant and co-operate with the Gardai in helping to overcome this threat.
"There has been a major increase in the number of break-ins and much of that is because of the present economical climate.
"Some people with go to any length to get money – even if that is at the misery of others," he said.
Addressing those present at this week's meeting, Donegal Crime Prevention Officer Sgt Paul Wallace, outlined the many ways in which we could frustrate the burglar and in doing so keep our homes and property safe.
In a very informative presentation Sgt Wallace displayed the many locks and gadgets available to homeowners to protect their homes and property.
He reassured people that there are many ways to prevent this happening again.
Sgt Wallace also pointed out the many ways that criminals can target our homes and businesses and how professional they are becoming.
Ends
Tags: