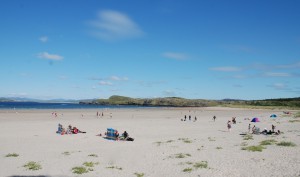 BY MARIE DUFFY
After a poor summer, weather temperatures finally increased in Donegal today.
Sunshine and blue skies meant people flocked to the beach with temperatures hitting 19c in places.
One beach that Donegal daily checked out was Marble Hill in Portnablagh, Dunfanaghy. It was packed with tourists mainly from Northern Ireland who were staying in nearby holiday homes for the weekend.
Claire Mc Adam, from Derry said that she 'loved' visiting Donegal when the weather was good.
"It's one of the most beautiful places on earth when the sun is shining", she said. "No-one would ever go abroad if we got weather like this. Beaches in Donegal are among the best in the world."
The weather is expected to last early into next week.
Tags: