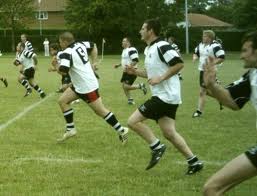 Letterkenny Rugby Club have become the first Sporting Club in Donegal to open up their Fitness Training to the General Community.
Sessions will be non-contact and will focus on building aerobic fitness and general strength for both males and females.
There will be two levels of Training:
The  Elite training Classes are for people who keep their fitness levels high and would like a new challenge.  The classes will be designed to build strength, stamina and aerobic fitness. Rugby skills will be incorporated into the classes to make them fun but this session is not for the faint-hearted!
Intermediate Classes are aimed at those who undertake light to moderate training on a regular basis and would like to further improve their fitness, while meeting like-minded people. The emphasis will be on aerobic and strength training.
This initiative has come about in response to the large number of people who want to train outdoors but don't necessarily want to play team sports.
Andrew Gibson, a professional fitness instructor who is running the sessions, said that you only need to drive around Letterkenny to see how many people are training on their own.  He pointed out that while jogging and cycling are great for aerobic fitness, they really only exercise a couple of muscles and people should try to incorporate some more general training into their fitness regime.
'The aim of the sessions is to provide a fun training environment which will improve overall fitness, strength and stamina', he said.
Classes are being held at Letterkenny RFC at the Glebe at 6.00pm Mondays and Wednesdays and on Saturday mornings at 9.30 am.  Cost is €5.00 per class. There is a free introductory session on the Bank Holiday Monday, August 1 at 6.00pm.
For enquiries or to register your interest, send a text to 086 811 9339.
Tags: