A tragic Garda who was killed as he took part in an operation to capture a wanted man had planned to ask his girlfriend to marry him when she turned 21.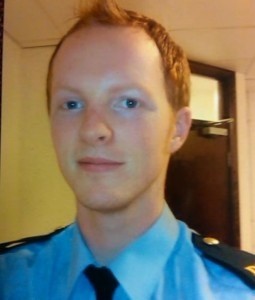 Garda Gary McLoughlin had told his family of his plans to pop the question to girlfriend Shauna Bradley.
The baby-faced Garda was killed when a speeding motorist hit his patrol car head-on in Lisfannon, Burt in December 2009.
Martin McDermott was this week jailed for seven years after he was found guilty of the manslaughter of 24 year old Gary.
Now Gary's heartbroken brother Enda has revealed how his younger brother's romantic plans will never be realised.
"Gary said he would propose to Shauna when she was 21. That should have been in May 2011. He will never do that now.
"Shauna says that part of her has died and she has described feelings of not caring what happens.
"She is struggling to overcome her huge feelings of loss," admitted Gary.
The heartbroken young woman, sat quietly amidst the family of the man she hoped would one day be her husband at Letterkenny Circuit Court this week.
Enda revealed how the once happy young coupe, who shared an apartment in Letterkenny after meeting in Buncrana where Gary was stationed, loved the simple things in life.
He said he one of his last memories of Gary is of him calling to the family home in Fenagh, Co Leitrim with Shauna after they had enjoyed a trip to Dublin.
"Gary had surprised Shauna with a trip to the Top Gear show in Dublin and he was so excited that he wanted to tell us all about it.
"That's how Gary was. He was an ordinary guy. He would bring home his laundry to mum at the weekends and would call ahead to make sure there was a home-cooked meal for him," said Enda.
He added that his parents Noel and Una still struggle to accept their youngest child has gone forever.
And he also revealed how his two nieces have now said they are forgetting what their uncle Gary's voice sounded like, which he said was so hard to take.
Gary's killer Martin McDermott from Raphoe, who had 91 previous convictions, and had already been banned from driving for 20 years, did apologise for the pain and hurt he had caused the McLoughlin family.
But Enda says he is not sure if his family can ever forgive the man who took their son, brother and uncle from them in such cold-blooded circumstances.
"We have no future. We have all received a life sentence.
"We wonder if the defendant has any empathy for our pain and the impact his actions have on our family," he said.
Ends
Tags: