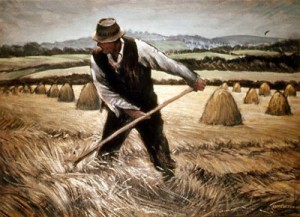 BELOW is a letter sent to the Irish Independent by GAA fan John Cuffe, in which he comments on a different age in the game….
"So Donegal needed to stay in a luxury hotel before playing Derry. Donegal to Clones is not to be equated with a trip in the Australian outback. How things have changed in Tír Chonaill.
In the 1940s, my uncle won five county medals with Gweedore. Amongst their opponents was Dungloe who were backboned with Sligo's Frank White and Mayo's Paddy Prendergast. Gweedore beat them handsomely and often.
The biggest threat to the Gaeltacht men was referees and a reluctant county board. They were hard men from a hard era.
My uncle "farmed" six acres of rock and bog. To supplement his meagre income, he worked on the roads with the council, in the bog or did seasonal work in Scotland.
Once on the way home from a day spreading gravel on the road he carried a hundredweight of grain two miles on his back. Once home, he milked the cows, did whatever bit of farming that was needed and then walked across a beach with the consistency of concrete for about half a mile with his boots hanging over his shoulders.
One day in 1947 he walked away. Gweedore replaced him and kept winning. Time and necessity saw him pass away at 62 working on a building site in Scotland. My small drop of Donegal blood curdled when I read the Irish Independent on Donegal cuddling their precious players.
What next? Pink jerseys to match our male pink-wearing political cool elite!
Jesus lads, grow up. It's still a simple game. If you are tired after a three-hour ride on an air-conditioned bus, then you should take up bowls or something sedentary.
I know times have changed. Better men than today's crop toiled in the fields of Donegal football without the need for constant pampering.
God forbid that they might be asked to foot turf, make hay, milk a cow or fill the potholes. Then again the men of the old era never broke metatarsals, pulled hamstrings or twisted cruciates. Cycling and physical work had the body honed.
In 1939, Gweedore were short-changed in the county final when odd refereeing saw them fall short by two points.
However, the cup travelled to the Gaeltacht that night as the Gaeltacht men simply took it home with them.
Ní fheicimíd a leithéid arís.
John Cuffe
* Is John right? Send your views to info@donegaldaily.com