Gardai are investigating an alleged arson attack on a home in Letterkenny.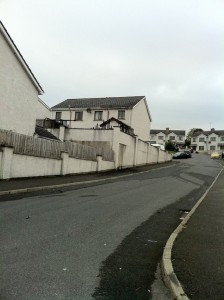 The incident happened on the Ard Na Ri estate in the Glencar area of the town shortly around 7pm last night.
It is believed something was used to set fire to the back of a house.
There was scorch damage and extensive damage to a wooden fence at the back of a house.
There are no reports of any injuries as a result of the blaze.
At least one unit of Letterkenny Fire Service arrived at the scene to deal with the emergency.
Donegaldaily.com was contacted by a member of the local community in the area who claimed the attack may have been racially motivated.
The resident said the family's home has been targeted on a number of occasions with windows being smashed, their door smashed in as well as damage to a car.
The resident said "This family has lived on this estate for almost three years and there are certain people who do not like them.
"I have no doubt that these attacks are racially motivated. There are 23 houses on this close and this is the only house to be attacked.
"As far as I understand the family have sought to be moved but that hasn't happened yet.
"This is the last straw. Something very serious could have happened as a result of this latest attack," he said.
It is believed that Garda forensic officers will carry out a full investigation on the house today.
Ends
Tags: