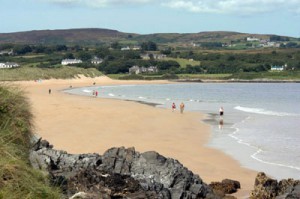 Inishowen-based TD Charlie McConalogue has hit out at the campers who left the sand dunes at Culdaff beach in a terrible and unsafe state last weekend.
Deputy McConalogue described the behaviour of some of those staying at Culdaff last weekend as "outrageous".
"The campers burnt almost everything in sight before they left including tents, chairs, parts of a nearby fence to the point that the dunes themselves catching fire," the TD told donegaldaily.com.
"Good weather brings visitors and we very much welcome this. However we cannot allow people to vandalise our local community.  A number of constituents have contacted me to express their disgust and rightly so.
"The area of the sand dunes where this took place is one used regularly by walkers on a daily basis.  I was horrified to see the full extent of the vandalism."
The local TD said the vandals contribute nothing to the local community in social or economic terms. They brought all their supplies with them and left their rubbish behind them, he said.
"I must commend Donegal County Council on their swift reaction in clearing up this mess very soon after it was reported to them.   Council staff collected 12 to15 bags of rubbish, as well as a lot of broken glass. They replaced the vandalised area with fresh sand in their best efforts to put it back to the way it was before last weekend.  Thanks to their response, any potential accidents involving children playing in the dunes have been avoided.
"It is important to acknowledge that not all those camping in this area act in the same manner.  I understand that there was another group of campers in Culdaff the same weekend who tidied up behind them, took their rubbish with them and left the area the same way they found it.  It is unfortunate that the behaviour of a small minority of people year in year out can give visitors to our beaches a bad name."
Mr McConalogue said the behaviour could jeopardise the Blue Flag status of Culdaff.
He added: "This incident could have been very serious had the fire continued to spread. It is a relief that we are not dealing with a much more serious situation.  I have contacted the local Garda station appealing for extra support at the weekends throughout the peninsula, particularly during good weather spells.
"I understand that Donegal County Council are continuing to investigate the incident and I would appeal to members of the public to contact them with any information."
Tags: