A huge shark has been caught off the coast of Donegal by a shocked fisherman.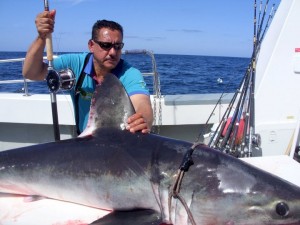 The Porbeagle shark, which weighed up to a massive 300Ibs, was caught by visiting angler Don McCLoskey from Limavady.
He was one of a group of anglers enjoying a quiet day's fishing off Fanad Head when he hooked the monster!
Don was one of a number of anglers who were fishing on the Swilly Explorer which was being skippered by Neil Doherty.
The female fish took almost an hour and a half to land after putting up a massive fight.
Don revealed "It gave one hell of a battle. There were a few times that I didn't think I was going to land it.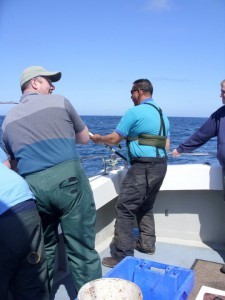 "It took more than an hour to land it but it seemed like a day because it was so hot.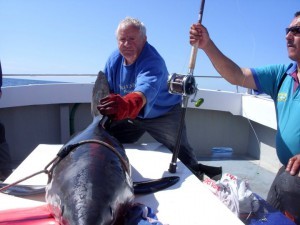 "It's certainly the biggest fish I have ever caught," he said.
The skipper of the boat Niall Doherty of Rathmullan CHarters reveled it took four men to bring the shark on board.
"It was a very hot day but Don is a very experienced angler and he kept his head. The other lads were giving him drinks as he went along.
"We kept the shark calm by putting a towel over its eyes so he couldn't see what was happening.
"They are not known to attack but they have very sharp teeth and you can't take a chance," he said.
The biggest ever Porbeagle caught off Irish waters weighed 365Ibs and was landed off Achill Head in Mayo in 1932.
The shark caught off Fanad Head was tagged and released back into the water.
"It's so important that people know we put the fish back. It was a beautiful creature and hopefully somebody will catch it again some day," added Don.
Ends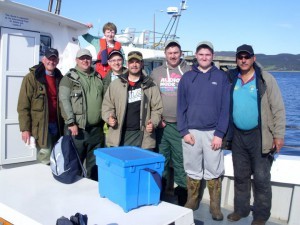 Tags: