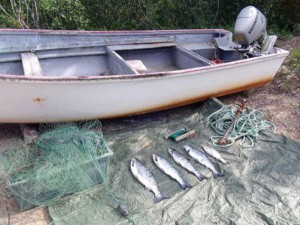 CRAZED DONEGAL poachers have tried to kill baliffs on the River Foyle and River Finn, official have confirmed.
A Loughs Agency official has said a member of his staff could have been killed when a breeze-block was dropped from a bridge onto a patrol boat.
The incident at Lifford Bridge was one of a number of recent attacks on workers carrying out anti-poaching patrols in the Foyle area.
Agency officials work across the Border and have the powers to arrest in both jurisdictions.
The agency's director of conservation and protection, John McCartney, said workers had been assaulted and had stones thrown at them.
Two have had to be hospitalised.
Mr McCartney said his staff were under "great pressure" with seven serious assaults in the last few months.
He explained they were also being targeted by "home-made booby-traps".
"Pieces of wood with eight-inch nails driven through them have been buried in the ground when my staff are trying to use vehicles and boats – so obviously what happens is they puncture the vehicle or boat tyres," he said.
"If someone happened to stumble or fall into that, they could do themselves very serious damage."
The BBC showed footage of huge 20ft salmon poaching nets being seized on the Donegal side of the Foyle.
Tags: