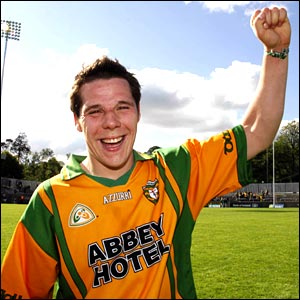 DONEGAL is celebrating tonight after hero Kevin Cassidy showed the guts to score a winning point in injury time to beat Kildare in the All-Ireland Quarter Final.
The Tir Chonaill boys pulled the game out of the fire in the dying minutes of injury time – coming back from two points down.
The final scoreline of 1-12 to 0-14 came in front of a 39,000 fans.
It was a fairytale ending for Donegal and Cassidy.
The Gaoth Dobhair man had missed an opportunity just a couple of minutes earlier.
But he showed true grit to score with his left foot from outside the 45 to hit the winning point to the delight of Donegal's fans and the utter despair of Kildare's supporters.
Christy Toye was the other name on fans' lips at Croke Park; scoring Donegal's goal just seconds after coming on in the second half – and the scoring the equaliser in injury time.
Three Eoghan O'Flaherty points helped the Lilywhites open up a 0-5 to 0-3 lead at the break after a dour and edgy first half.
But just after a disallowed goal that would have given Kildare a six-point advantage, they found themselves pinned level by a brave Donegal.
Johnny Doyle's long-range shot had come back off a post, and was gathered by full-forward Tomás O'Connor who drove to the net from close range.
But O'Connor was adjudged to have been in the square, and the score was ruled out. Harshly, probably.
Donegal rallied, and three quickfire points from Michael Murphy – who had come in as a 28th-minute sub after injury ruled him out of the starting line-up – Ryan Bradley and Dermot Molloy made it 0-06 apiece on 45 minutes.
Substitute Christy netted with his first touch on 58 minutes, but O'Flaherty sent the tie to extra-time when Donegal were seconds away from winning in normal time.
Kildare led by 0-13 to 1-8 midway through extra time, but Kevin Cassidy's superb long range winner in stoppage time sent the Ulster champions through to the last four – and a date at the end of August with the winners of Dublin v Tyrone.
We've a month folks to let the hearts settle…
Well done to Jim and all the lads.
Donegal scorers: C Toye 1-01, M Murphy 0-03 (1f), K Cassidy 0-02, K Lacey, R Kavanagh, M McHugh, R Bradley, P McBrearty, D Molloy 0-01 each.
Kildare scorers: E O'Flaherty 0-06 (4f), A Smith 0-02, E Bolton, P O'Neill, E Callaghan, J Kavanagh, G White (f), R Sweeney 0-01 each.
Kildare: S Connolly, A MacLochlainn, M Foley, H McGrillen, B Flanagan, M O'Flaherty, E Bolton, J Doyle, D Flynn, P O'Neill, E O'Flaherty, E Callaghan, R Kelly, T O'Connor, J Kavanagh.
Subs: A Smith for O'Connor, O Lyons for MacLochlainn, R Sweeney for Flanagan, M Conway for O'Neill, G White for Doyle, F Dowling for Kavanagh, Doyle for E O'Flaherty, Flanagan for Kelly
Donegal: P Durcan, F McGlynn, N McGee, P McGrath, A Thompson, K Lacey, K Cassidy, N Gallagher, R Kavanagh, M McHugh, M Hegarty, R Bradley, P McBrearty, D Walsh, C McFadden.
Subs: M Murphy for McBrearty, E McGee for McGrath, M McElhinney for Gallagher, D Molloy for Hegarty, C Toye for McFadden, McFadden for Molloy, K Rafferty for McElhinney, Gallagher for Rafferty, Molloy for McFadden, McBrearty for Bradley
Referee: D Coldrick (Meath)
SEND YOUR MESSAGE TO THE BOYS IN OUR COMMENT BOX BELOW!
Tags: