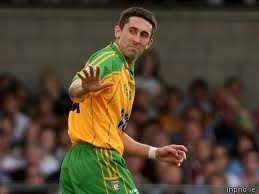 21MINS DONEGAL HAVE WON. CASSIDY SCORES WINNING POINT
20mins: CHRISTY TOYE SCORES TO LEVEL THE GAME!!!
19mins Cassidy puts it wide when there were better options.
15mins. Kildare playing cyncial game, time-wasting and rugby tackles galore.
13mins. Captain Murphy strikes again. deficit down to a point. Hold onto your hats! It's Kildare 0-14, Donegal 1-10.
11mins: Murphy scores. Deficit back to 2 points.
11mins Kildare score first point and go three clear. Emmett Bolton was scorer.
SECOND HALF OF EXTRA TIME: Donegal lose breaking ball from throw in.
1 min of injury time: Karl Lacey pulls a point back with a great score. Kildare 0-13, Donegal 1-08. Whistle blown. Jim McGuinness is on encouraging his troops in the middle of a huddle.
10mins. Kildare are 3 points ahead.
9mins Two cynical fouls by Kildare, Two yellow cards shown.
8mins Kildare are 2 points ahead. White scores from free.
6mins: Kevin Rafferty has chance to equalise, but puts it wide. Doyle back on for Kildare.
4mins: Kildare take lead. 0-11 to 1-07. Point from Kelly.
1 Min: Kildare have first chance but it's wide.
8.08PM It's raining at Croke Park. Kildare's Johnny Doyle is off. Throw-in won by Kildare. Ten minutes each way.
8.04PM Players are still in the dressing room catching their breaths after a pulsating second half.
Donegal and Kildare were all square at full-time.
Donegal were much the better side in the second half, turning around a two point deficit from the first half.
Christy Toye was the Donegal hero, scoring a goal for the Tir Chonaill just seconds after replacing St Michael's club mate Colm McFadden.
But Kildare pulled three points back to level the game, scoring the equaliser just 20 seconds from the end.
It was nail-biting stuff for the 39,000 fans at Croker.
Tags: