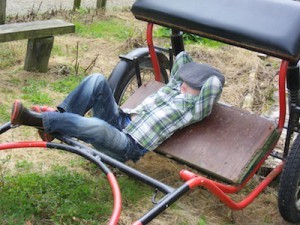 This week marks the launch of Smyth's Daleside Feeds search for 'little farmers' aged 15 and under to star in their 2012 calendar "Growing up on the Farm".
The calendar will highlight the top class quality of Smyth's products whilst featuring junior farmers helping out on the farm.
The Donegal based company is located in Lifford's sweeping hills and nestled on the banks of the River Deele. Operating one of the most modern mills in Ireland Smyth's have a heritage of making superior animal feeds since 1865, and cater to sheep, pigs, cattle, horses and poultry.
Smyth's state that: "Evolution, expansion and excellence have defined our philosophy for nearly a century and a half.  It is the pursuit of these attributes which has led to our product integrity and service reliability".
These factors have resulted in the expansion of the company from small family run business to the successful nationwide supplier that they are today.  Years of knowledge and nutritional expertise have enabled them to create quality products.  Smyth's are committed to the needs of their customers, listening to their ideas and working in partnership in order to develop the best products, as they know that their success is Smyth's success.
To see your son, daughter, niece, nephew, brother or sister, feature as little Miss/Mr. January, February or March please send a picture of their best farming pose to Smyth's Daleside Feeds: contact@smythfeeds.com.  All applications must be made by a parent/ guardian over the age of 18.
For more information on Smyth's Feeds and our 2012 Little Farmers Calendar please logon to our Facebook page at:  http://www.facebook.com/smythsdalesideanimalfeeds