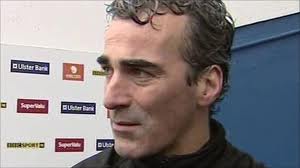 DONEGAL manager Jim McGuinness didn't kick a ball or tackle a player on Saturday – well, maybe in his head he did.
Yet he was the one who ended up with an injury after the super last gasp win over Kildare at Croke Park….thanks to a TV camera.
The architect of Kildare's downfall ended up with a fat lip and a busted nose for his troubles!
Said Jim. "The final whistle had gone and I turned around to the physio and there was a camera man in my face and as I turned around I whacked myself off him – I have one on my lip here as well!
"I don't think I'll need stitches," he said smiling, "we've a doctor and a surgeon in there and they're having a bit of a laugh at me, but it's great, I'll take a wee slap in the nose any day to be in an All-Ireland semi-final.
"I just hope we can go there now and put in a good performance and take the game to whoever is in that last-four match-up and make the most of the occasion 'cause it's a great opportunity for them now."
Of course, he's right.
And the whole county will be behind McGuinness on his march to Croke Park at the end of the month.
Watch an interview with Jim here: http://news.bbc.co.uk/sport2/hi/northern_ireland/gaelic_games/14358201.stm
Tags: