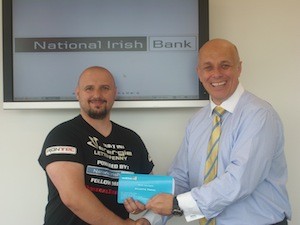 The road to Estonia part 3 – BY MICK COLEMAN
Training has taken a back seat  for these last couple of weeks as I was busy at work organizing ALL IRELANDS STRONGEST MAN so all I could really do was to do big lifts every couple of days just to keep me ticking over but all that is all behind me now and it's back to 100% effort.
Derek Plumb a senior branch manger with the National Irish Bank has been kind enough to sponsor my flight tickets to Estonia – a big thank you for that.
So I payed a visit to Evelyn Mc Clafferty at Atlantic Travel who gave me a discount on the price so…. happy days!!!
A few of the guys in the gym came in to help me get a bench shirt on and it payed off as I hit 160kg so thanks to James and Paul but there was bad news as the Russians are going to the Europeans and as most people know they are every hard to beat when it comes to weight lifting so getting into the top 5 just got harder
Shoulders play a major role in the bench press so they must be strong but the front delt and the rotator cuff are the most important and if you are going to get injured it will be one of these that will fell the pain, shoulder press and side/front laterals raises help prevent this from happing not to heavy a weight as form is all important.
BUILT IN ENERGIE LETTERKENNY POWERED BY NATIONAL IRISH BANK FOLLOW ME ON DONEGALDAILY.COM
Tags: