A tyre-dumping ground has been found in one of the most scenic parts of Donegal.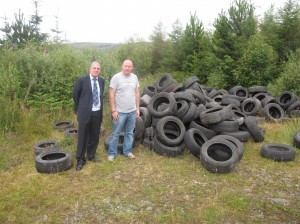 The mound of more than 100 used tyres was found on a scenic forest walkway in Trentagh by shocked local resident Kevin McDonnell.
Mr McDonnell said he was disgusted by the discovery.
"I was out walking the dog in this area which I always do. It's a beautiful forest walk.
"I couldn't believe it when I came around the corner and was met with all these tyres. It's a disgrace," he said.
Local Sinn Fein Councillor, Mick Quinn has hit out at those who he described as undermining our communities and environment by constantly dumping rubbish throughout the county.
Quinn said:" I was contacted by a neighbour who had made this discovery whilst out walking. I was absolutely disgusted to witness this ugly sight, particularly as Donegal County Council has put so much effort into combating this scourge over recent years."
Cllr Quinn added that this was not just a case of someone dumping a couple of tyres form their garage because they could not afford to bring them to a dump.
"This was an organized dump by someone who loaded them onot a tractor or a trailer and brought them here," he fumed.
Quinn continued :" We are privileged to live in probably the most beautiful county in Ireland, which should be a Mecca for much needed tourists but this type of behaviour does everything but encourage tourism into the county.
"I believe that it is only a minority of people who continue to spoil our countryside but unfortunately to a visitor we will all be tarred with the one brush"
He then appealed to people to remain vigilant and to report dumpers.
"This behaviour which is an attack on our communities must .be stopped as we should no longer have to clean up the mess left by others and I am calling on people to be vigilant and to report suspected dumping to the Council's Water and Environment Section," he said.
Ends
Tags: