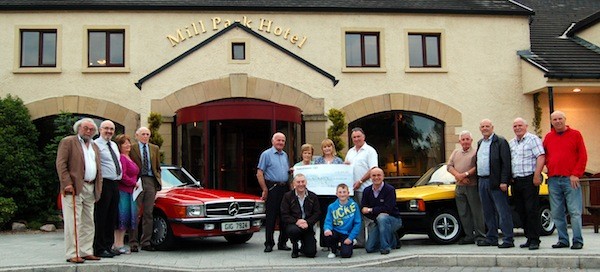 Members of the Atlantic Coast Classic Car Club gathered at their Club headquarters in the Mill Park Hotel, Donegal Town on Tuesday Aug 2nd to present a cheque to the Donegal Hospice.
The money was raised from the PJ Treacy Memorial Run & Draw which resulted in a cheque for €2,405 being presented to Mary Service of the Donegal Hospice.
She thanked the members and committee for the much needed cash and assured them the money would be used "wisely and effectively in the delivery of first class hospice care in the county".
The AC Classic Car Club members cars have been used in numerous fund raising events in the South Donegal area.
Your next chance to see these magnificent cars will be at the Family Fun Day in the Mill Park Hotel, Donegal Town on the afternoon of Sun. Sept 25th in aid of Animals In Need (Donegal)
Photo Caption: 1st Group: Kevin Haines, Tony McDermott (Proprietor Mill Park Hotel), Maureen & Brian McGivern,  Middle Group: Eddie Ferry (President;  Atlantic Coast Classic Car Club) Mary Service & Philomena McGill (Donegal Hospice), , Martin Treacy (Secretary; Atlantic Coast Classic Car Club), Michael & Dylan Martin, Peadar McGinty. 3rd Group: Barney Cullens, Dan Kelly, Mickey Ferry, Chris Hewitt . Pic Paul O Sullivan