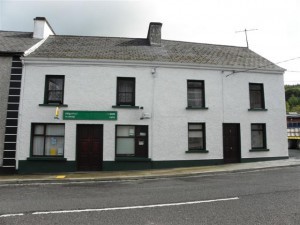 GARDAI have launched an investigation after a complaint from a customer at Laghey Post Office that cash lodged in an An Post account has gone missing.
The allegations come four weeks after the post office in the village was mysteriously closed down.
Last night 300 concerned local people gathered to discuss the closure, fearful it may not re-open.
However An Post has assured local TDs Thomas Pringle and Pearse Doherty that it will be re-opened.
However the country's main postal service is unable to say when the outlet will open its doors again.
It's understood An Post is carrying out a full audit of the premises.
However it is also understood that a customer has lodged a formal allegation that money the person lodged at Laghey Post Office is no longer in the account.
The discovery was made by the customer when he went to make a withdrawal from another post office last week.
An Post has promised it will reopen a Donegal post office after it closed unexpectedly.
Hundreds of customers in the Laghey area have been left without adequate post office services since July 6th.
The first residents knew of the closure was when they were met with a sign on the window of the post office recently on behalf of An Post saying it was shut "due to circumstances beyond our control."
Donegal South West Independent TD Thomas Pringle has made representations on behalf of the residents to An Post and met with them last night.
Deputy Pringle said he was confident the post office will reopen shortly.
He asked residents to be patient and that he was confident An Post will reopen the branch as soon as possible.
"I am not completely sure of the reasons behind the closure.
"My only concern is that the services offered by the post office to locals in the Laghey are returned as soon as possible.
"Many people are dependent on the post office not just for business but also as a social outlet.
"I have been in touch with An Post and I have ben assured that Laghey post office will reopen soon," he said.
A spokesman for An Post said they could not comment any further on the matter.
"At this stage we can say that we are hopeful the post office at Laghey will reopen again but we cannot put a date on it.
"All customers including those in receipt of social welfare payments have been transferred to their nearest post office in Donegal Town.
"The branch closed due to circumstances beyond out control and that's all we can say at the moment," he said.
Tags: