It could be just another one of those beautiful omens.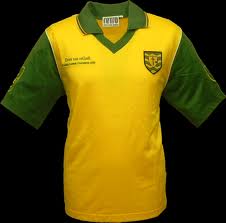 Or then again it could mean absolutely nothing in the battle for Sam Maguire.
Thousands of GAA fans across the county may just be about to believe that we could possibly be in for a repeat of the 1992 All Ireland Final or a place in the final at least.
Why else then are hundreds of GAA fans ordering the retro 1992 version of the jersey worn by Anthony Molly, Tony Boyle, Martin McHugh and company?
A spokesman for the company which makes the jersey retrogaaa.com said orders have been coming thick and fast for the famous jersey.
'Perhaps Donegal fans feel that this could be their year after 1992. We have had a lot of interest in the jersey.
"The new jersey looks great but a lot of people might feel a little superstitious and want to hold onto or relive the feel-good factor for 1992," he said.
But while the retro jersey may be making a comeback, sales of the new jersey are also reported to be huge.
Come August 28th, those sales could just go through the roof ahead of a certain date in September.
Ends