The new fixyourstreet.ie website, which allows the public to directly report problems like potholes, graffiti, and broken streetlights to their local authority, needs to be rolled out in Donegal as soon as possible.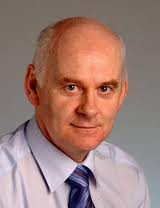 That's the view of Senator Jimmy Harte who said the scheme could be a real benefit to the people of the county.
"I look forward to seeing it introduced soon, and that if it was available in Donegal "it would show how quickly Donegal County Council and Town Councils do get work done".
"I welcome the Government initiative , fixyourstreet.ie which went live in a trial beta version last week and is currently only available in the South Dublin County area. It is planned to run for three months, after which it is planned to be rolled out across the State," he said.
The site allows residents to report any issues on their street online or via Twitter and promises a response to all complaints within two days.
It will handle 'non-emergency issues' including potholes, blocked street drains, broken streetlights, and illegal dumping.
"The majority of the time the public presume someone else has reported a problem in their area," said Senator Harte.
"This new site gives residents the opportunity to log their complaint. The complaint is then prioritised and can be rechecked until work has been carried out."
Ends
Tags: