The heartbreaking funeral takes place today of Letterkenny man Mark Bradley.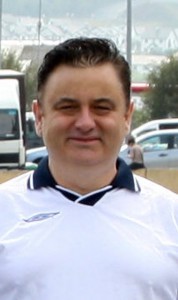 Mark, 43, died suddenly after being rushed to Letterkenny General Hospital.
Mark, who was married to Catherine (nee Harkin) was waked at his home house in Beechwood Avenue.
Mark had been the life and soul o fthe party only a few days before his passing when he remembered the life and times of his brother-in-law Eamonn 'Tippy' Harkin who died in April aged 41.
Mark had helped to arrange a charity football match in honour fo Eamonn in which he played.
Huge crowds turned out to say a final farewell to the well-known and well-liked structural architect.
A picture of Mark's two children rested beside him as hundreds of people queued to pay their respects to Mark at his home in Beechwood.
The father-of-two was well known in the town and was well-known by many for his days fronting popular pop band Ego Minefield in the 1980s.
Mark is survived by his wife Catherine, children Leanna, 8 and Zach, 3, his mother Josephine and bothers Kevin, Paul and Declan.
He was predeceased by his father Liam last year.
Mark will be buried at Conwal Cemetery following funeral mass today at 11am in the Church of the Irish Martyrs.
Ends
Tags: