The man who could be Ireland's next President spent the week in Donegal deciding if he will run in the most-talked about election for years.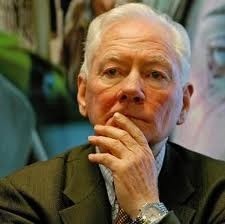 Gay Byrne has been a visitor to Donegal for the past 40 years and owns a house on the outskirts of Dungloe.
The former Late Late Show host has been swamped by media requests about if he will put his name forward for the Aras hotseat.
Gaybo spent Friday night hillwalking around West Donegal with more than a dozen friends on a year trek.
Gay, who has just turned 77, promised he would celebrate the occasion by having a "ball of malt."
Gay, who is a regular visitor to the area and is very friendly with Pat Nora Gallagher, insists he has not been approached by any political party.
However speculation is growing the Fianna Fail did approach the veteran broadcaster to sound him out on standing.
Gay said that his age would in no way stop him form standing for the Presidency.
He recently went for a hospital check-up at St Vincent's in Dublin and was told he was the healthiest man in the hospital!
Gay said he will now take soundings and said it would be an insult to the office of the President if he did not consider it.
He said simply "We'll see what develops."
Locals are already beginning to speculate about the fall-out if Gaybo does get the nod for the Aras.
'President to open Mary From Dungloe Festival' may not be pie-in-the-sky afterall!
Ends
Tags: