The head of the Garda Traffic Corps in Donegal has declared that every road death is preventable.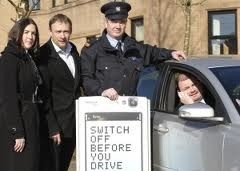 Inspector Michael Harrison was speaking during a hard-hitting segment on RTE's new road traffic programme.
Traffic Blues featured patrols with the Donegal Traffic Corps over two weekends in the county last October.
During filming, Gardai had to contend with a variety of challenges including drunk drivers, joyriders and hit and run incidents.
One segment showed a motorist form Northern Ireland reach speeds of up to 180kph in an effort to evade Gardai before fleeing across the border into Derry.
The programme showed the real dangers which Gardai face on Donegal's roads week-in, week-out.
The show also highlighted how drunk driving is also still a major problem in Donegal with 17 people arrested for drunk driving during filming.
The programme also showed how seriously Inspector Harrison and his team are taking road safety in Donegal.
Ends
Tags: