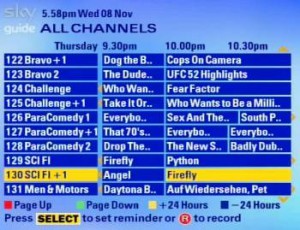 INVESTIGATION: SKY TV are on a sales drive in Co Donegal this week – and no wonder….they're making a small fortune!
That's because customers here are paying through the nose for a service which costs much less just across the Border in Co Derry.
For example a Donegal customer signing up to the Sky+ with Sports Bundle will have to fork out a whopping €59 per month. You will also have to pay €49 for the Sky+ box
But in Derry the same package costs just €37 (£31.50) each month. The Sky+ box is FREE and there's  £25 Marks & Spencer voucher AND free broadband and weekend and evening telephone calls.
In the North every single Sky package is cheaper.
And when you want to add HD to your package, it costs an extra £10.25 (€11.85). Here in Donegal it's €15.
Sky Ireland has been boasting about freezing it's prices in the Republic until 2013.
And little wonder….they can afford to! They're already fleecing customers here in Donegal by charging up to 30% more than customers in the North.
Sky – whose motto is Believe In Better – can take up to €250 more a year off a Donegal customer for an inferior service compared to customers in the North.
Are you being ripped off? Email us to info@donegaldaily.com.
Tags: