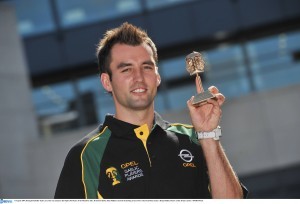 BRILLIANT Donegal star Karl Lacey is celebrating after picking up another gong – the long-serving defender is the Quinn Insurance Ulster GAA Writers Association monthly merit award winner for July.
His incredible performances against Derry in the Ulster final and against Kildare in the All Ireland quarter-final gave him the prize.
The 26-year-old has bee a star at centre-half-back of late. And now he is looking forward to August 28th!
Said Karl: "Obviously the match against Dublin is creating a huge stir but we are just delighted to be involved.
"It's very encouraging that in the build-up to a big game like this I should be getting the writers' award."
He admits his point against Kildare was a great moment.
"I just had to score as some of my team mates were getting on to me about my lack of scoring," smiles Lacey.
"Others around me were getting scores so the pressure was on me to get in on the act. I'm glad I managed to get that point against Kildare. It was useful in the end."
Tags: