A VICTIM of a paedophile priest has called for a Garda investigation into allegations that his attacker and up to two dozen other priests in Raphoe abused children over a 35 year period.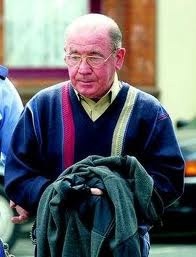 Just six priests from the Diocese have been brought to justice for crimes against children.
One of them was Father Eugene Greene, a child sex monster who was moved through eight different parishes where he raped and abused dozens and dozens of young boys.
Now one of those victims has told donegaldaily.com that a forthcoming report must be published in full and gardai must investigate allegations of a cover-up within the Church.
The church-run National Board for Safeguarding Children in the Catholic Church has spent months carrying out a review of all allegations made against priests in Co Donegal.
Bishop Philip Boyce will publish that report in the next two weeks.
The victim of Father Greene told us: "It wasn't just him. That is now clear. I have spoken with a lot of victims who have never even been to gardai and the allegations concern two dozen priests at least.
"I hope this report is published in full. I want Bishop Boyce to publish it and deal with it and there were people in the diocese who knew about Greene and others and they were just sent to other parishes.
"Some victims have killed themselves. Someone has to pay a price for that."
The so-called audit asked the diocese to hand over details on all abuse allegations against priests dating back to the mid-1970s.
It is understood the audit will be damning of the Church and how it handled allegations of child sex abuse.
Some in the Church believed paedophiles could be 'cured'.
The Diocese doesn't have to publish the report. Audit reports are published at the discretion of each bishop.
However Bishop Philip Boyce has made it clear that he will publish it. He is expected to issue a lengthy statement in which he will apologise on behalf of the Church for the abuse which took place.
Father Greene served nine years of a 12 year sentence and was released from prison in 2008. He is now living in Co Cork.
He abused dozens of boys between 1965 and 1982.