Sinn Fein in Donegal has demanded voting rights for emigrants and people in Northern Ireland ahead of the upcoming presidential race.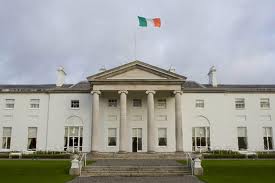 Inishowen Cllr Jack Murray said that the right to vote for the President of Ireland should be right of every Irish citizen, whether they live in Donegal, Derry or Dubai.
The Sinn Féin councillor added that if such a move required a constitutional amendment then it should be provided for at the earliest opportunity.
Cllr Murray said "Extending presidential voting rights to all Irish citizens living on the island of Ireland is a natural outworking of the Good Friday Agreement as it enshrined the rights of people in the north to Irish citizenship.
"Similarly, those who have been forced to emigrate in search of work should be entitled to have their say in who their President should be. Living abroad doesn't make anyone less Irish.
"Having met two independent candidates who sought my party's support for their nomination from Donegal County Council, I, along with my Sinn Féin colleagues stated clearly that we would not support any candidate who did not recognise the voting rights of all citizens.
"The President of Ireland represents all Irish citizens. As such, all citizens should have the right a say in who the president should be. It shouldn't matter whether you live in Donegal, Derry or Dubai.
"If this requires a constitutional amendment then this should be put before the people at the earliest opportunity.
"Sinn Féin has raised this issue at Leinster House, the All-Ireland institutions and in Donegal County Council. We will continue to campaign on this issue until it is resolved."
Cllr Murray concluded by calling on all presidential candidates to indicate their position on the extension of voting rights for northern citizens and for the diaspora ahead of the poll taking place in a few months' time.
Ends
Tags: