When it comes to being man's best friend, Fly is one sheepdog who 'delivers'!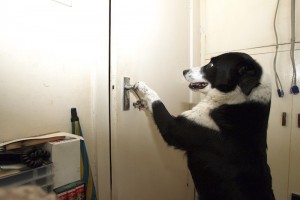 The black and white collie has been given her owner's stamp of approval after learning how to collect the post and deliver it each morning.
Fly waits patiently for the sound of the postman's horn at her Milford home before excitedly rushing out for the mail before delivering it at owner Rodney Roulston's feet.
But the letter-loving mongrel has sacks of other tricks in her kennel.
As well as collecting the mail, she also finds Rodney's lost keys, hat and shoes, and can even manage to open and close all the doors in the house by herself.
All Rodney has to do is to say the word and his loveable companion jumps to attention.
And the amazing thing is that nobody ever taught her to do all the things that make her master's life so much easier.
"I don't believe in trying to make dogs do things they don't want to do.
"They have a mind of their own and they instinctively want to help out.
"I have always just suggested little things to the dog and she has eventually picked up on them," said Rodney.
The pair are never seen out of eachother's company after she wandered into his house one day a few years back and even has her own seat at the kitchen table.
"She can't just make the tea yet but she certainly drinks plenty of it," laughed Rodney.
Electronic enthusiast Rodney has even put up You Tube videos of his loveable rogue up on the internet.
He says his favourite trick is the fact that Fly can collect the letters from the postman.
"I can't really remember how that happened. But now the postman will beep his horn and she will be out like a shot to get them.
"All I need to do now is to suggest to her not to take the bills when they arrive," he laughed.
Ends
Tags: