The new Letterkenny Live Festival has been described as a huge success by organisers.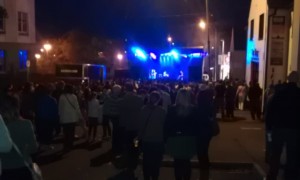 The two day event finished last night with an open-air concert in the middle of the town featuring new singing sensation Ryan Sheridan.
Organisers are hoping the event may eventually take over from where the old Letterkenny Folk Festival left off after it was stopped in 1995.
Large crowds gathered on the town's Main Street and towards Oliver Plunkett Road where a special 'gig rig' had been set-up.
As well as private security, there were several Gardai on the street.
There were a number of minor altercations as a result of alcohol but Gardai say the night passed off without any major incidents.
As well as local contributions, the main sponsor for the event was Failte Ireland.
Unfortunately the main event for later today – Superkart Sunday – had to be cancelled.
However organisers are already putting out the feelers for any even bigger and better Letterkenny Live next year.
Ends
Tags: