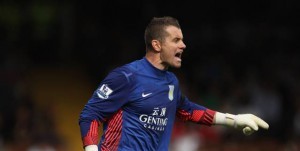 SHAY Given pulled off a series of super saves to give his new club Aston Villa a point in a 0-0 draw at Fulham.
The Lifford man made several particularly brilliant saves.
He was there to stop Andy Johnson and Bobby Zamora with three point-blank saves.
And afterwards new Villa manager Alex McLeish said the Donegal man's experience had made the difference
"His experience tells him when to go into the right positions," said McLeish
"You might have seen other goalies diving for one of the two that came point-blank at him, but that's the experience of a great goalkeeper."
McLeish denied Given was solely responsible for today's draw.
He added: "I don't think it's fair to say that. I would never say that.
"It's a team game and the team contributed to that point."
He may be 35, but at £3.5M Shay is already looking like the bargain buy of the season.
Tags: