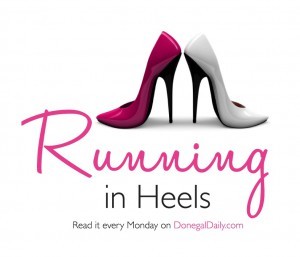 Hello,
Monday morning has beckoned upon the Media Box HQ once again, the week ahead of us certainly is a busy one; we've plenty of exciting events to keep us busy.  And let's not forget Super Valu's Super Hero charity mountain climb is taking place this Sunday. The climb is in aid of the Donegal Hospice and Super Valu plan to raise €30000 by October for the good cause. There certainly is "Summit" about them!  We have been customising our costumes for weeks and we can't wait to show them off, pink makes the boys wink and all that! Check out how well our training has been going in the exclusive picture!
A massive congratulations to Mary Given from Laghey, Co. Donegal who is the lucky winner of €1,000 in this week's Gallagher's Bakery Grab a Grand competition. Mary is definitely a lucky name! Mary Given is actually the third Mary to have won the competition so far! After finding her golden ticket in her White Sliced Pan bought in Kee's of Laghey, Mary was entered into a draw with other contenders and was randomly selected as this week's Grab a Grand winner.
Each week Gallagher's Bakery will put 20 lucky golden tickets into their famous White Sliced Pan with one ticket holder walking away €1,000 richer. To be in with your chance to Grab a Grand pick up your Gallagher's White Sliced Pan from any store, enjoy the new and improved recipe and keep your fingers crossed for the lucky loaf with the golden ticket.
Our friends over at Smyth's Daleside Feeds have been inundated with entries for the "Little Farmers" search. Smyth's are looking for "Little Farmers" aged 15 and under to star in their 2012 calendar "Growing up on the Farm". The calendar will highlight the top class quality of Smyth's products whilst featuring junior farmers helping out on the farm. To see your son, daughter, niece, nephew, brother or sister, feature as little Miss/Mr. January, February or March please send a picture of their best farming pose to Smyth's Daleside Feeds: contact@smythfeeds.com All applications must be made by a parent/ guardian over the age of 18.
We will be minding our P's and Q's this week as we have several corporate events to plan! And there is nothing the Media Box team loves more than a good old challenge!
Our top tune for today is "Ain't No Mountain High Enough" by Marvin Gaye & Tammi Terrell, hopefully it will get everyone in the mood for the big climb ahead of us. Please feel free to logon to http://www.facebook.com/mediabox and sing along.
We hope you enjoyed this week's update on our office antics and keep an eye on our Facebook page to hear all the latest news. Until next week….keep running in heels!
The Media Box Team. X