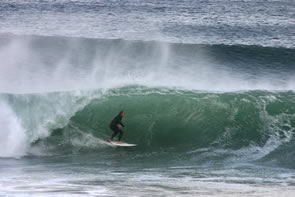 IT'S probably one of the county's best known beaches, but surfers may be getting more than they bargained for in recent days…thanks to a sewage leak.
A pipe at a pumping station at Bundoran beach is broken…and we don't need to tell you what happened next other than one local wag who has described it as 'surf and turf'!
Town mayor and Sinn Fein councillor Michael McMahon demanded action. And work is now underway.
The council says heavy seas caused the system to malfunction but this would be fixed once and for all once upgrading works are completed.
A spokesman said: "The design of the proposed new sewerage scheme for Bundoran (included on the Departments Water Services Investment Programme 2010-2012) includes significant improvements to the operation of the main pumping station and storm storage facilities that will address the current occasional operational difficulties."
Councillor Michael McMahon said it was 'an embarrassment' to the Town Council that the leak was not fixed until now.
Tags: