A wheelchair-bound GAA fan has slammed the GAA for making him take TWO tickets for the All Ireland semi-final between Dublin and Donegal.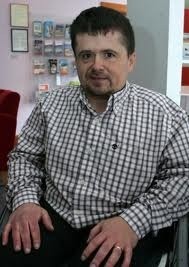 Frank Larkin from Letterkenny has been a huge GAA fan all his life and travels to many of Donegal's games.
However the well-known 40 year old says he feels so patronised by Croke Park authorities because they insist on sending him TWO tickets for every game at GAA headquarters.
One of the tickets is free but a second is for a companion who can sit with him in the designated area for people with disabilities at Croke Park – but must be paid for.
But Frank says he would much prefer to travel on his own and pay for his own ticket each time.
"It is a nice gesture and I appreciate that some people with disabilities cannot travel on their own.
"But I and many other people with disabilities do not need people to travel with.
"The GAA will allow me to go to Croke Park on my own.
"However they insist on sending me TWO tickets for every game at Croke Park.
"I have to say I do feel patronised and I feel I should have the right to receive just one ticket if I request it," he said.
Frank said he would even be prepared to pay for ONE ticket for himself.
"That's how strongly I feel about it. People might say I am lucky getting free tickets and I know I would have no shortage of people wanting to take me.
"Thankfully I don't need anyone. But I want to make the point to the GAA that I should have the right just to receive one ticket," he said.
On the field Frank reckons Donegal could just have a big surprise in store for the Dubs at Croker on Sunday week next, August 28th.
"Everyone thinks it's only a matter of Dublin turning up and walking into the final.
"But I can tell you that people up here feel a lot different than that.
"I think Dublin could be in for a real fight and much more on the day," he said.
Ends
Tags: