Hello Everyone and welcome along to the 7th Country Corner – sponsored by www.irishmusic.co.uk. Click www.irishmusic.co.uk for great music and free delivery to County Donegal! Get clicking!
I hope you's all enjoying it as much as I am writing it, keep your comments coming in if you have any photos of you with your favourite Irish Country Stars please email them to me.
Country Music News
Andrea Warnock from Omagh has just released her 2nd CD Single  entitled – Love Is Blind.  This is another originally song, penned by Andrea, log onto http://www.youtube.com/watch?v=ncOlb8sI6XA.
John Mc Nicholl's new Single – Walk Down The Aisle has just been shown on Hot Country on Monday past, an original song penned by Limerick Man Pat Garrett and its getting great airplay, John has just finished putting down his songs for his new CD out in September time and he tells us he has recorded a duet with Dana, more details to follow, check out http://www.youtube.com/watch?v=6Ey9B9oOK9M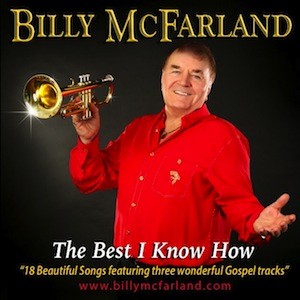 Billy Mc Farland is ready just to release his New Cd – The Best I Know How – Billy is no stranger to the music business – Billy has been singing for many years the popular singer from Ballymena – billy is famous for his trumpet playing – check out billys website at www.billymcfarland.com.
Robert Mizzell sings 'The Rose of Tralee' It takes a certain kind of stage performer, with legendary appeal, to effectively bring proceedings to a close at an International Show, and in particular to our global celebration of Irish culture, the Rose of Tralee.  Robert Mizzell, Country Music Artist, will fill this role on Tuesday 23rd August 2011, and give the international performance of his life, as he serenades the newly crowned 52nd Rose, on stage in the festival dome in Tralee, Co. Kerry. The finale of the festival will be watched by millions of people around the world and it will be a huge honour for Robert, already a true crowd favourite, to sing to the winning Rose, that beautiful world famous nineteenth century Irish Ballad, 'The Rose of Tralee'.
Georgette Jones
As you know, Georgette is the only daughter of Country Music's most legendary marriage between the undisputed King and Queen of Country Music, George Jones and Tammy Wynette.
Georgette will be paying tribute to the music of both her parents, as well as showcasing her own special brand of 'Urban-Country' Music in Donegal.
Georgette is bringing her show to the Great Northern Hotel, Bundoran on Friday 9th September and to the Mount Errigal Hotel, Letterkenny on Friday 16th September. Georgette will be joined in Bundoran by Ireland's very own Louise Morrissey and Mick Flavin, who will be paying tribute to the music of 'George and Tammy'. Also, appearing with Georgette in Bundoran on the 9th will be Ireland's Lisa Stanley, who shared many of Georgette's experiences – being the daughter of Ireland's Maisie McDaniels! Also, appearing on the night will be Donegal's prodigal Son – Quincy Raye as well as Jessie Conlon.
Georgette will be joined in Letterkenny by the 'George and Tammy' of Ireland –Ray Lynam and Philomena Begley as well as the Prince of Irish Country,Aiden Quinn, who will duet with Georgette on the night! Also, Donegal's own Quincy Raye will take to the stage, as a great surprise for Letterkenny audiences is promised!
Georgette will also be performing around the Country at the Ardboyne Hotel in Navan on Thursday 8th, The RadissonBlu Hotel in Galway on Saturday 10th, the New Park Hotel in Kilkenny on Sunday 11th, the Clonmel Park Hotel on Tuesday 13th, the Red Cow/Moran's Hotel Dublin on Thursday 15th, the Four Seasons Hotel Monaghan on Saturday 17th, the River Bank Hotel in Wexford on Sunday 18th and the Dolmen Hotel in Carlow onTuesday 20th. Georgette will also be special guest at this years World Ploughing Championships in Athy County Kildare and will meeting and greeting fans at the Irish Country Sound Pavilion from Tuesday 20th to Thursday 22nd.
Caroline Hunter better know to her fans as Caz Hunter is ready to launch her brand new cd entitled – One More Try , it's a great cd -11 songs 2 are her own songs that she wrote herself,  One More Try & My Thoughts Of You, Caz has been playing around the bars for many years and it's a great singer and she is delighted with the outcome of her new cd. Please add Caz on facebook. https://www.facebook.com/cazh1?ref=ts
Dancing Dates
Thurs 18th Aug 2011
Biddy Friels (Letterkenny)
Derek Ryan & Band
Friday 19th Aug 2011
Mellon Country Hotel (Omagh)
Robert Mizzell & Band
Friday 19th Aug 2011
Josies Country Tavern (Letterkenny)
Nathan Carter & Band
Friday 19th Aug 2011
Malin Hotel
Jimmy Buckley & Band
Saturday 20th Aug 2011
Riverclub (Castlefin)
Lisa Mc Hugh & Band
Saturday 20th Aug 2011
White River Hotel (Toome)
Shawn Cuddy & Band
Sat 20th Aug 2011
The Ryandale, (Moy)
Nathan Carter & Band
Sat 20th Aug 2011
The Allingham Arms Hotel (Bundoran)
John Mc Nicholl & Band
Mon 22th Aug 2011
Bushtown House Hotel (Coleraine)
Nathan Carter & Band
We recommend that where possible you confirm the date with the venue before traveling (especially long distance).
Competition Time:
To Win tickets to Georgette Jones tour of Ireland
please answer the following question:-
Q: Name Georgette's famous parents'!
Answers to info@donegaldaily.com – closes on Tues 06th Sept 2011
Good Luck
Don't forget to check out Margos Article – https://www.donegaldaily.com/2011/08/16/margo-records-touching-tribute-to-missing-donegal-girl/
Dont forget to tune into me on 105fm or 107.6fm or online at  www.icrfm.ie every Tuesday between 3pm and 4pm this Tues 23rd Aug I'll be talking to Margo. You can also get in touch with me at stephendoherty2008@gmail.com or visit my website which is www.keepitcountryradioshow.co.uk