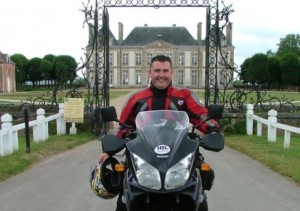 An Inishowen priest is to put his foot down at mass this Sunday.

But Fr Gerard Sweeney from Burt won't be preaching about living a righteous life or forgiveness.
Instead he is planning to take a very different road as he holds a mass for motorcyclists.
The motorbike-mad cleric, a keen biker for more than 17 years, will hold the mass at St Aengus's Church at 1pm.
The aim of the mass is to pray for the safety of all bikers across Donegal as they take to the roads.
A key part of the Mass will focus on remembering bikers who have died on the roads in the past 12 months.
"There have been quite a few road deaths this year, so it is important that we remember them by having a minute silence. That's why a lot of people wanted to do it. Then after I will bless the bikes should people wish."
As well as blessing and remembrance service, the bikers also plan to hold a collection for the RLNI before heading off on a ride around Buncrana and Ned's Point.
Fr Sweeney also stressed the mass is open to bikers of all denominations.
Ends
Tags: