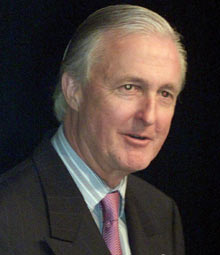 THIS is the Canadian billionaire who has donated "thousands of pounds" towards the restoration of an RAF Spitfire found on a Co Donegal bog this summer.
Galen Weston – married to an Irish woman – is worth €10 billion!
It has emerged that the WW2 plane that crashed in Inishowen in 1941 was actually commissioned from a Stg£100,000 donation made by Mr Weston's father, Garfield, during the Battle of Britain.
Its excavation from Glenshinney bog, Moneydarragh, Gleneely, on June 28th last is said to have delighted the wealthy businessman.
It is understood big-hearted Mr Weston, the founder of Penneys clothes stores, made contact with aviation historian and dig organiser, Jonny McNee to offer money to restore the fighter aircraft.
Mr McNee won't how much the billionaire had donated to Derry City Council's museum services but said it was "thousands".
Tags: