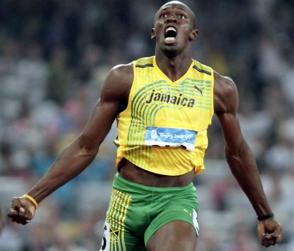 MILFORD athlete manager Ricky Simms reckons one of his key proteges – the sprint sensation Usain Bolt – will show the world how good he is at the World Championships next week.
Simms, a former Finn Valley athlete, looks after some of the world's top stars.
And he says Jamaican Bolt is a down to earth guy who brings something special to athletics.
"Sprinting's a bit like boxing," said the Co Donegal man.
"The showmanship, the swaggering. Usain's a breath of fresh air for a troubled sport."
And he says of the media pressure: "He handles it all very well. At the start of his career he got questioned all the time. Now people have seen him. He's been around. He's been tested a lot, all the time in fact. He was tested this morning. He's always clean. Within athletics people have never questioned him because they saw him as a kid at 15 and he was a fantastic talent then. He didn't suddenly spring up from nowhere."
He gets on with Bolt so well, he says, because the Jamaicans and the Irish have a similar outlook on life.
Usain will do well at the World Championships next week because he loves big events – and rises to those sorts of occasions.
And the Milford man talked about bonding with Mo Farah, the UK's No 1 distance athlete, and bringing him to Donegal.
"He has a way about him that is natural and makes people like him. One year I went back to Donegal for Christmas and Mo came to stay with the family," said Ricky.
"He'd been to Donegal a couple of times with English Schools and you could see he really loved the place. He'd have the craic with the people and they loved him too. He drove my car and lived like a member of the family, like a little brother to me really."
Tags: