Sick thieves are targeting people visiting graveyards.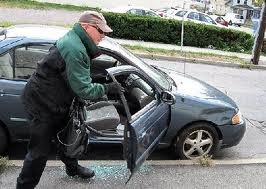 A number of cars have been broken into around the county in recent weeks and belongings stolen.
The latest incident took place at the weekend when a woman visiting the graveyard at Drumboe in Stranorlar had her car broken into.
The car window was smashed and the woman's handbag, which contained a large amount of cash, was stolen.
In recent months thieves have also targeted people visiting graveyards in Letterkenny, Buncrana and Donegal Town.
A Garda source warned people not to leave valuables in cars when they are visiting graveyards.
"Thieves have cars under surveillance a lot of the time. A graveyard is the perfect place for a robbery because it's the last place someone would suspect something like this would happen.
"But thieves don't care who or where they steal from. They observe people and know they are going to be away from their cars for a certain amount of time.
"We would ask people not to leave any valuables in their cars when they are visiting graveyards.
"If there are not valuables on display then the chances are that people's cars will not be broken into," he said.
The source said he did not know if the spate of graveyard thefts was part of an organised scam.
Ends