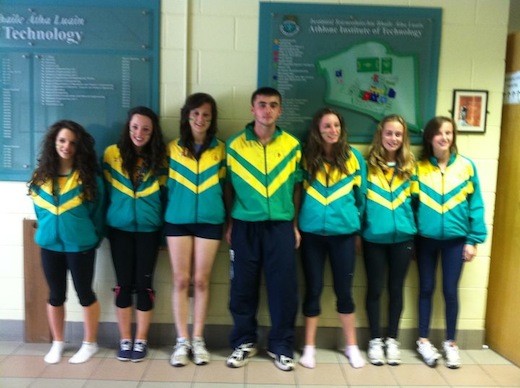 Outstanding performances from Tir Chonaill athletes at National Community Games
Athlone IT was a hive of activity on Saturday and Sunday last when the final weekend of the National Community Games was held in ideal, sunny conditions.
Tir Chonaill athletes, representing their communities and county recorded a number of outstanding performances and returned from the festival of sport rewarded and very happy.
Gold for Kelly and relay team
Six weeks ago, Kelly Mc Grory, Laghey, was forced to cry of from the national championships because of illness. Kelly bounced back with a victory in the heats of the U16 Girls 100m on Saturday am. She followed up on Sunday am with a 2nd place in the semi-final and in the final individual track event on Sunday evening ran a most positive and aggressive race to record and impressive victory over  pre-race favourite  Grace Lawlor from Carlow. Donegal Town's,  girls Under 16 – 4 x 100m relay squad of Emma Brady,Donegal Town, Kate McGowan,Clar, Katie Hoad, Frosses,Niamh Mc Grory, Ballydevitt and the already mentioned Kelly Mc Grory had a few minor baton changing  hick ups in qualifying via heats  and semi-final for Sunday evenings decider. Kelly once more, in the final, anchored the team home for a great victory.In the Boys U16 – 1,500m Mark McGuiness, Dunkineely, ran a sensible semi- final on Saturday evening where he finished 3rd and in Sundays final had his top performance of the season when he won bronze behind Kavanagh, Kerry, and Corcoran, Dublin. Ruth Gillespie, Lough Eske, U14 -80m Hurdles, fought  her way to Sundays final via heat and semi-final qualifications. Aideen Kane from Wexford was an impressive winner with less than a metre separating Moorland, Meath, Jennings , Mayo and Gillespie, Donegal. The judges following some deliberation placed the Lough Eske girl 4th .Eva McMullan, Creevy, Ballyshannon, in then U14 – 100m qualified for the final with 2nd –heat and 4th semi-final performances. In a closely contested final Ruth filed 6th position. Other club athletes to perform well were Katie Hoad, U16 Discus and Orla Coughlan, Drumeeney, U12 -100m.
Donegal Towns Community Games team representatives also had a successful weekend where the U13 Girls rounders' team won silver medals, Boys U13 rounders' team won bronze medals and the Boys U11 Rugby team won bronze medals.
Congrats to all and thanks to the numerous coaches and volunteers who prepare and coached these groups
Community Games Athletics National Finals Results
Donegal resutls
Girls U16 100m 1st Kelly McGrory, Donegal Town
Girls U16 4 x 100m Relay 1st Donegal Town
Boys 600m U.12 1st Denver Kelly – Fahan Inch & Burt,
Girls U14 Long Jump 2nd Arlene Crossan, Letterkenny East
Boys U12 Ball Throw 2nd Dylan Kearns , Killybegs
Girls U14 4x 100m Relay 2nd Letterkenny East
Girls U16 , 1,500m 2nd Natasha McArdle,Lagan
Boys 1500m U.16 3rd Mark McGuinness – Killybegs
Boys U14 4 x 100m Relay 3rd Letterkenny West
Girls 80m Hurdles U.14 4th Ruth Gillespie – Donegal Town,
Marathon: Boys U.16 Individual 3rd Peter Gibbons – Letterkenny East, Boys U.16 Team 3rd Donegal
Girls 80m Hurdles 4th Ruth Gillespie, Donegal Town
Boys U13 Walk 4th Ryan Carr, Killybegs
Tags: