The Catholic Bishop of Raphoe Dr Philip Boyce has said the Catholic Church is being attacked by the arrows of a secular and Godless culture.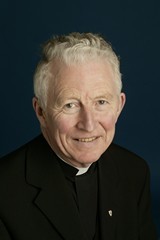 Dr Boyce also said it was rocked from the inside by the sins and crimes of priests and consecrated people.
An independent review of diocesan files relating to child abuse allegations against priests is nearing completion in the bishop's Donegal diocese.
He has promised to publish the findings of the National Board for Safeguarding Children in the Catholic Church when he receives them, which is likely to be next month.
Bishop Boyce recently dismissed claims that there were e"hundreds and hundreds" of abuse victims in Donegal who have been abused by up to 20 priests.
Bishop Boyce made his remarks last Saturday but they were not released to journalists until yesterday evening.
He told worshippers at the Novena at the Marian shrine in Knock, Co Mayo, that they were living through a testing moment of history and a spiritual dark night now engulfs the church.
The bishop urged Catholics to act hopefully and with patience and predicted that the church would rise again.
Ends
Tags: