A terrified mum-of-three has appealed to whoever is behind the spate of arson attacks in Inishowen to stop – after her three children were caught up in one of the fires.

Julie Cooke is still in shock after she had to lift her children out of their beds after sheds behind her home in Buncrana were set on fire yesterday morning.
The fire at Hilltown, Buncrana destroyed a car and caused thousands of euro of damage to farm machinery in sheds.
The fire is believed to be the 11th such incident in recent weeks on the Inishowen Peninsula and Garda believe the fires could be linked.
Julie revealed how she had to take her three children aged 8, 3 and 1 out of bed for fear the fire was going to spread to her home.
Julie said "These fires have to stop. What is it going to take? Someone is going to be killed," she pleaded.
Julie revealed how two of those whose house nearly caught on fire after a car was set ablaze were asleep in their beds when the attack happened at 3.30am.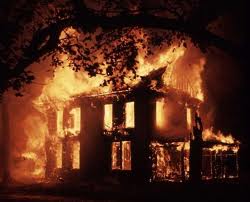 "One of those was a pensioner who struggles to walk. Someone knows somewhere who is doing this," added Julie.
Acting Fire Chief Bobby McMenamin has appealed to whoever is setting the fires to stop before someone is seriously hurt.
Gardai have also appealed for anyone who knows anything to contact them as part of their ongoing investigation.
Ends
Tags: