The exodus to the capital starts today.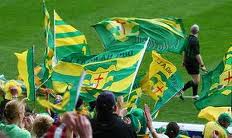 Some 30,000 Donegal fans are expected to turn up at Croke Park this Sunday for the much-anticipated All Ireland semi-final clash with Dublin.
The county is awash with colour as All-Ireland fever sweeps across Donegal.
But many have decided to leave today to make a weekend of partying out of it in Dublin.
Many of city's well-known hotels frequently used by the Donegal contingent including the Skylon, the D2 and the Burlington are already reporting brisk business thanks to Donegal fans.
However Gardai are appealing to fans to take extra care as a large volume of traffic makes the long journey to Dublin.
Back at home hard-pressed pubs and restaurants are hoping for a spin-off from the All-Ireland weekend.
Many are offering deals on both food and drink in the hope of pulling in revelers to get their tills ringing once again.
And that's just a semi-final.
What's going to happen if we put one over on the Dubs?!
The fight-back against the recession could very well start on Sunday afternoon.
Ends
Tags: