It was a rubbish job but someone had to do it!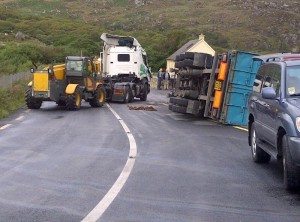 An operation to put a huge 40ft lorry back on the road to recovery was finally complete last night.
It probably didn't help matters that more than 10 tons of recyclable waste spilled out onto the road just outside Crolly.
Donegal County Council swung into action and two cranes were ordered form Northern Ireland to help get the truck back upright again.
A major traffic management operation was then undertaken to allow traffic pass through the area.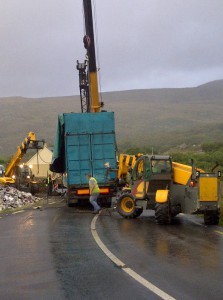 Emergency services were on the scene within minutes following the accident.
However the driver of the truck had a very lucky escape and apart from severe shock, he did not have to receive treatment.
Our pictures show the extent of the operation and how what could have been a tragedy miraculously ended without so much as a scratch.
Many thanks to Ronan McGarvey for the pictures.
Ends