Proud Donegal manager Jim McGuinness has slammed those who have labeled him as "anti-football."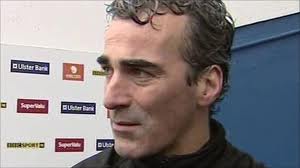 The Donegal defensive display against Dublin was strongly criticised by members of RTE's commentary team especially former Kerry player Pat Spillane.
Some of the panel even called it the 'game from hell' which the Donegal boss totally dismissed.
Speaking after today's game the Glenties man said he made no apologies for how he his team had played in their quest to reach an All-Ireland final.
"I am certainly not anti-football. We play a certain way and we set out our stall in a certain way.
"This time last year we were trying to win games and get he team winning games and that's what we have decided to do.
"We played that way because we want to get results and I make no apologies for that.
"The boys have become competitive again and have put a lot of pride in the county again and people were getting very excite which was nice," he said.
"I would prefer to be competitive and get the result than go down in a blaze of glory that Donegal team have done in the last 19 years and getting nothing out of it," he added
McGuinness said his team could have pushed on when they were 6-3 up and won the game and nobody would have said they were "anti-football."
However he gallantly paid tribute to Dublin for hanging in and continuing to push away in search of their win.
"That is a team which have been developing for a number of years now and we are only really starting that process.
"Dublin came back and to be fair they deserved it in the end. They are very advanced in their conditioning and that came through in the end.
"They wore us down in the end," he admitted.
However the Glenties man said this certainly wasn't the end for this Donegal team.
"We will move on and assess the squad and start all over again," he said.
Ends
Tags: